How to create a luxury kitchen look for less
Can't stretch to the kitchen you really, really want? No matter. With our kitchen design hacks you can get the look without maxing out your budget. We'll give you the inside track on the areas where you should concentrate your spend, and where you can save without compromising on the results.
Divide doors from units
If it's a bespoke look you're after without an accompanying price tag, consider investing in standard units then fitting different doors to make your room stand out from the crowd. It's important to have easy-to-organise cupboard interiors, so look for unit ranges with a wide choice of practical interior fittings, then shop for doors that can add appealing texture or colour.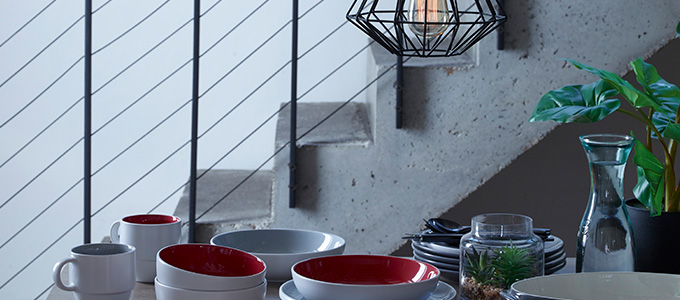 Image: George Home
Layer lighting
A good lighting scheme is vital for a beautiful kitchen and one that's safe. A kitchen needs good overall lighting, task lighting so that preparing food is safe (sharp knives and hot surfaces will soon find out any gaps in this), plus lighting for a breakfast bar and/or dining area. You might like to add feature lighting to the kitchen layout, too, so you can highlight items on display, or even an island.
The overall lighting should ensure there aren't any shadowy corners. Task lighting should illuminate preparation and cooking areas. For worktops, it can be positioned below wall units or shelves, and for cooking areas the lighting from an extractor can keep things safe. Make sure you can operate each set of lighting independently and opt for dimmer switches to avoid contemplating the clearing up while you're eating.
Spend on getting a professional in to fit what's necessary. When it comes to highly visible elements like pendant lights, the high street and DIY sheds offer fabulous options to create the look of designer fittings.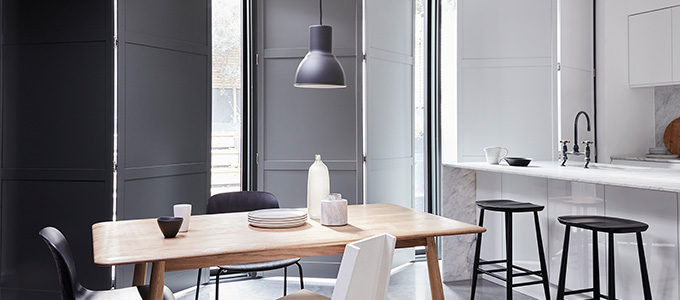 Look to the window
Regulating the daylight – and the glare – from a window is also vital for a safe and comfortable kitchen. Shutters come top of the list for style and practicality for small windows as well as large. They're easy to open and close so you can react as the sun moves round your house throughout the day. Comparing costs? Remember that shutters will look good for years to come plus they're easy to clean and won't retain odours – other treatments might need taking to the cleaner's or regular replacement in a hard-working kitchen environment.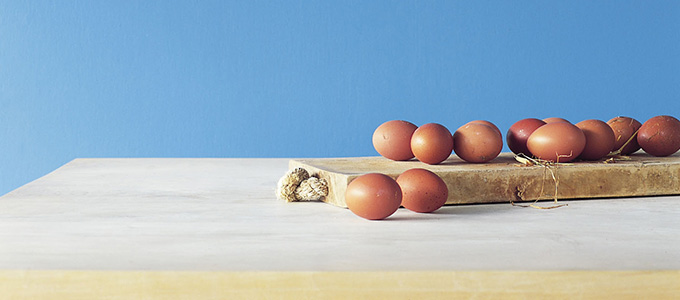 Image: Farrow & Ball
Make a statement with paint
Extensive tiling is costly, so consider using paint to bring colour to kitchen walls then opting for a splashback by the hob only to cope with inevitable splashes from pans. A clear glass splashback here will let the paint show through to keep the focus on the colour.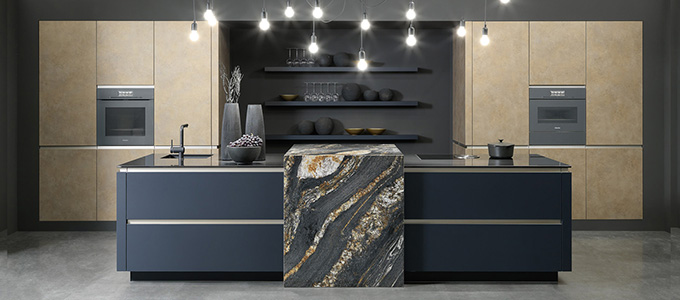 Image: Rational
Choose a worksurface
It's worth investing in a quality worktop, but consider your lifestyle and how much time you have to keep it looking good as well as the material itself. Surfaces such as granite benefit from a little love, and acidic substances (think lemons as well as some cleaners) can damage the stone – but the surface will be unique. If all-natural stone isn't essential for you, quartz has the look without the care requirements. Wooden worksurfaces are hard wearing and warm looking, but will need regular upkeep to prevent splashes from damaging them over time. Solid surfaces, meanwhile, can be a low hassle option and look spectacular, too. Always check cabinetry is robust enough to support the weight of the worktop you're considering.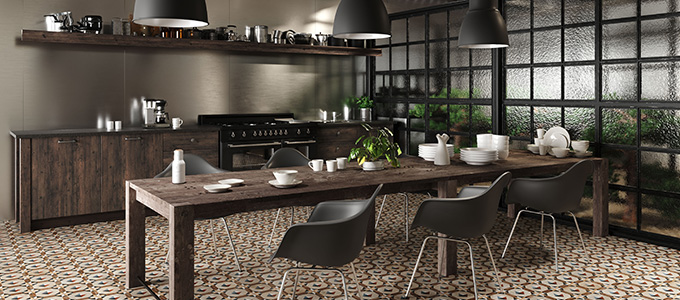 Image: Tile Mountain
Love a lookalike
For substantial savings, you can create the appearance of traditional floor tiles without the outlay with clever ceramic lookalikes. More costly are porcelain tiles, but if you want the appearance of a wood surface and a no-maintenance floor, they're definitely worth considering.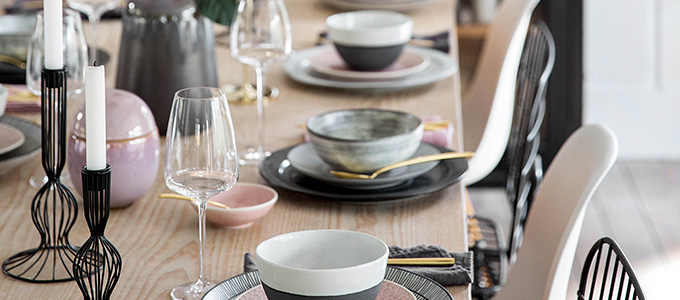 Image: Amara
Update tableware
If your plates and serving bowls are looking a little less than lovely, swapping to a new design can up the luxe factor of your room without major expense. Show off tableware on open shelving and you'll get the benefit all the time rather than just at meal times. Items you use every day will be easily accessible that way, and shelves make for a kitchen that's cheaper and more open and airy than one packed with wall units.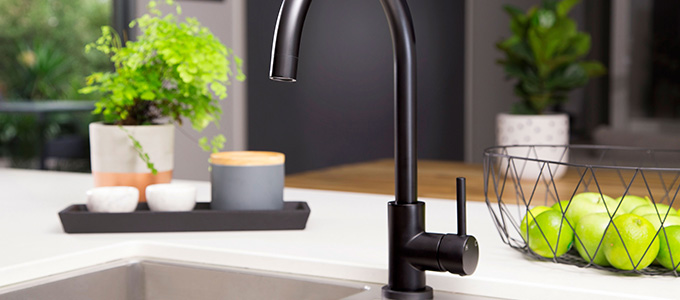 Image: Meir
Be bold with your choice of tap
A stylish tap can be a fantastic kitchen feature, and needn't stretch your budget where it just can't go. Consider finishes other than chrome to give the room a personalised finish. Black, colours and warm metallics are all available so you can ring the changes.
Header image: House of Fraser